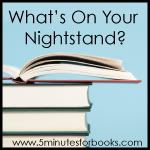 I always think this is fun - so here's what's on my NEW nightstand - yes, we redid our bedroom and we got rid of our tables and upgraded to classy square nightstands - just had to throw that in!!
Real Life and Liars
by Kristina Riggle - this is an ARC that I am reading from Harper Collins - while it's not my normal fare - I am enjoying it. I will review it here soon, but suffice it to say - it's REAL - it's what families are REALLY like.
I'll Cross the River
by C. Hope Flinchbaugh - this is next on my To Be Read List - looks good - I'll fill you in when I get done!
Meet the Bible
by Philip Yancey and Brenda Quinn - this is what I use for daily readings - I wanted something "meaty" that included daily scripture readings and this fit the bill - I love it!
The Love Dare
by Stephen Kendrick - I know, EVERYONE has this on their nightstand - but I REALLY do want to start it - I think my husband hopes I do soon!!
Lastly - my current Beth Moore study -
Stepping Up
- POWERFUL - that is all I can say - it is JUST what I needed.
So, what's on your Nightstand!?!?!